Airdrie Chrysler Dodge Jeep Ram
Establishment, car repair and car dealer at 139 East Lake Crescent Northeast, Airdrie, AB T4A 2H7, Canada. Here you will find detailed information about Airdrie Chrysler Dodge Jeep Ram: address, phone, fax, opening hours, customer reviews, photos, directions and more.
Opening hours
| | |
| --- | --- |
| Monday | 09:00am — 09:00pm |
| Tuesday | 09:00am — 09:00pm |
| Wednesday | 09:00am — 09:00pm |
| Thursday | 09:00am — 09:00pm |
| Friday | 09:00am — 06:00pm |
| Saturday | 09:00am — 06:00pm |
Rating
4.6 /5
Based on 5 reviews
Photos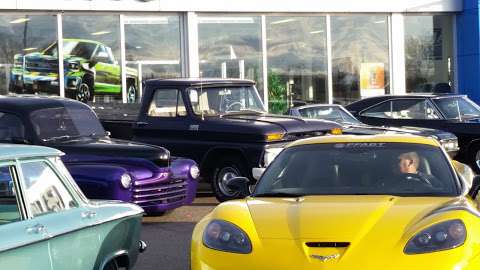 Reviews of Airdrie Chrysler Dodge Jeep Ram
Matt Dirks Added 2018-11-06

★ ★ ★ ★ ★

What a great place to buy a vehicle. It's like you become part of the team when you go in here. Everyone makes you feel welcome and makes it easy to do business. Easy transaction and no pressure to buy. I would recommend purchasing a vehicle here to anyone. Not just Airdrie residents.

Cindy Fleming Added 2018-10-23

★ ★ ★ ★ ★

Ryan has been great through out the whole process. He has been keeping an eye out for vehicles for me for a while now and as soon as one came in he called me up. He know exactly what I wanted and my price range was. Airdrie Dodge is a great place to do business with. I would recommend them to everyone.

Chantel Added 2018-10-18

★ ★ ★ ★ ★

Friendly atmosphere , warm welcoming when you arrive smiles on the girls face at reception within the showroom. Sale's people are always making sure that you are being looked after no matter what department you are in as well as the General Manager asks if they have been looked after. Service both in main bay and express are wonderful. I recommend that you go down to experience it for yourself!!!

big dog Added 2018-10-06

★ ★ ★ ☆ ☆

drove in to get my oil changed and asked if they could also change my fuel filters if time permitted. They checked with the service team and he said no problem. The one super nice thing was the service tech was heading for lunch but put it off till my truck was finished which is great!! The bad thing was the cost to do the fuel filters was a lot higher than I expected. I like taking my truck to you but your prices are high compared to other authorized outfits in Calgary. And lastly, your staff out front were very nice and had a smile which is great to see.

July 30, 2018
Booked an appointment to get a couple recalls done on my Ram 2013 3500 and Mellisa was very helpful. I requested an oil change to be done while in the shop which was not a problem. Services were preformed and the serpentine belt replaced after they let me know it was badly cracked. The only disappointing part to this visit was the oil monitor was not reset.

Linda J Bridger Added 2018-09-20

★ ★ ★ ★ ★

Went to visit Keith; let him know what I wanted and price range; he listened to me. Within a very few days, he found a car for me that satisfied my needs and $$. The paper work was done quickly and efficiently; the staff was very friendly.
I am a very happy customer.
About airdriedodge.com
Airdrie Dodge | New and Used Chrysler, Dodge, Jeep, Ram Sales in the Calgary Area
1-888-475-1894 Airdrie Dodge sells and services New and Used Chrysler, Dodge, Jeep, Ram vehicles in the greater Calgary area. Our Parts and Truck Accessories team are automotive experts and are price competitive.
Airdrie Dodge, Ram Trucks, Dodge, Jeep, Chrysler, New Used Sales in Calgary, Automotive Service, Parts and Accessories, No Fees Dealership, Dealerrater